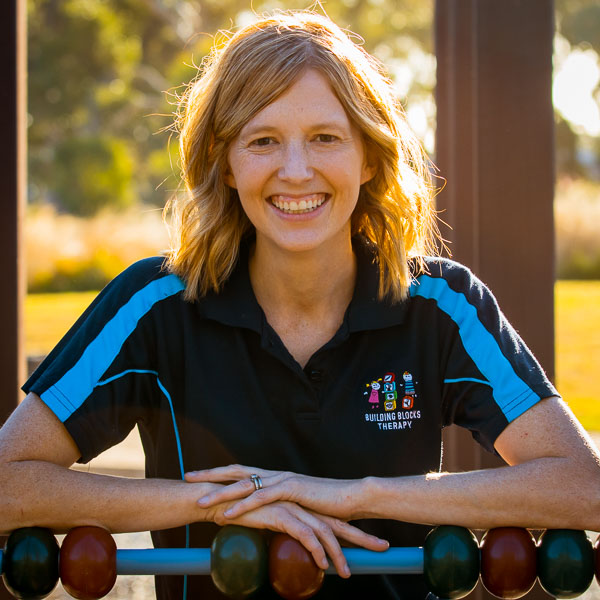 Lize Roos
Director/Occupational Therapist
---
Lize Roos graduated from La Trobe University and started working as a Paediatric Occupational Therapist in 2009. Her dream of being an OT started at the young age of 7 when she had the privilege of working alongside an OT to help her overcome some of the challenges she faced as a result of being born prematurely. 
She started her studies in South Africa and finished her bachelors of Occupational Therapy and Psychology in Melbourne after immigrating with her family in 2004.
Building Blocks Therapy was established in 2012. As Director her goal is to lead an incredible team of passionate people who want to make a positive difference in the community. Her dream is to direct a family friendly business where all people feel loved and cared for, where families can access services that will empower them to help their children, a place where there is no judgement and where every effort is made to ensure that we work collaboratively with families and other health care professionals to provide the best outcomes possible for each individual.
She believes every child should have the opportunity to achieve his or her dreams despite the challenges they face. They should also be given many opportunities to learn and develop their skills in a fun and safe environment.
Lize is a wife to Sean and a mum of two beautiful growing little boys, Kayleb and Malachi. 
---
Tricia
Occupational Therapist
---
Tricia graduated in 2006, from La Trobe University with a Bachelor of Occupational Therapy. She brings a wealth and breadth of experience to the Building Blocks Therapy team: with over three years of working with children with autism spectrum disorder doing ABA program, and 10 years of working in adult physical rehabilitation; in addition to teaching ballet, and facilitating children's music development programs. She loves facilitating group therapy where possible, and believes that there is much to be gained from learning alongside others.
From a young age, Tricia knew she would work with children. She is passionate about children feeling like they physically and emotionally belong, and are keeping up with their peers. Combining her strengths in creativity, communication and practical therapy; she believes that therapy should be meaningful, fun, engaging, and easy to replicate at home. With two growing children, Oliver and Jasmin, she continues to create exciting ways for her children to explore and learn; and is able to relate to the joys and challenges of parenthood.
Tricia can't wait to journey with you in working alongside your child, and partnering with parents and other caregivers to bring the best out of your child.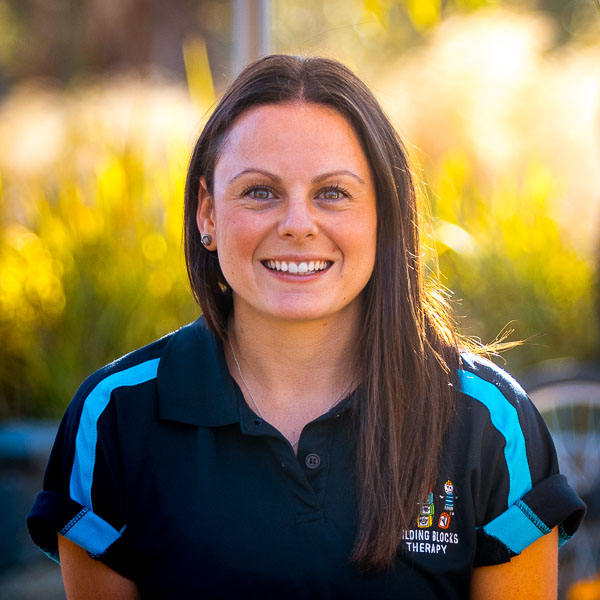 Lucy
Occupational Therapist
---
Lucy graduated from LaTrobe University completing the first year of the double degree, Bachelor of Health Sciences and Masters of Occupational Therapy Practice. She has experience working in community rehabilitation for adults and young adults with Acquired Brain Injury. She also has experience working in schools as a sports coach and enjoy every opportunity to work with young children and supporting their creative fun way of learning.
Lucy has always had a passion for working with children and families to achieve their goals in a range of home, community and clinic settings.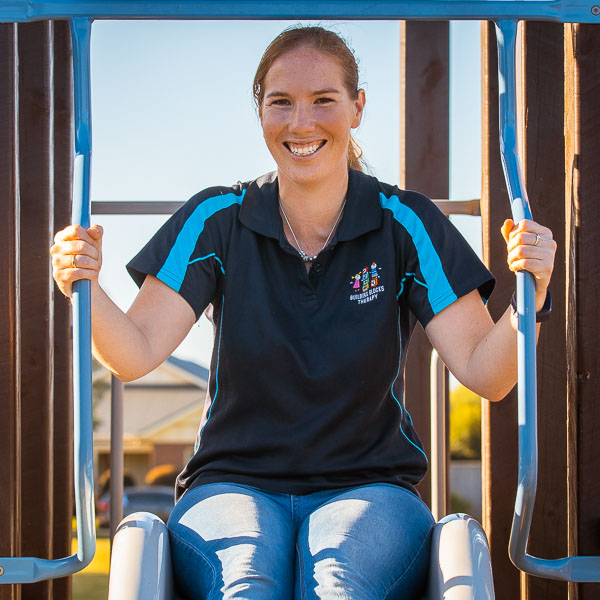 Katie
Occupational Therapist
---
Katie has always had a passion for working with children and helping them develop their skills. She often helped out at the local primary school where her mother worked. Katie is a keen netballer and has shared her love and knowledge of the sport through her local club, being on the committee for over 10 years, umpiring, coaching and promoting the sport to younger players.

---
Katie graduated from La Trobe University with a Bachelor of Occupational Therapy in 2010. She started her career as a Paediatric Occupational Therapist at a special school for children with autism. Since then she has also worked in a community centre and in an early childhood intervention service involving children who were eligible for NDIS.
Katie currently works part time at a community centre and part time at Building Blocks Therapy. She believes that every child is unique and can achieve greatness in their own way. She is passionate about working with families and other professionals to achieve the very best for your child.
Olivia
Occupational Therapist
---
Olivia has completed a Bachelor of Health Sciences and Masters of Occupational Therapy Practice at La Trobe University, Melbourne.
Olivia's interest in working with children began while she was studying and working part-time as a carer for an adolescent with autism. Since graduating, Olivia has worked further with children with a range of developmental issues and autism specifically.  
Olivia has also worked in a mainstream school setting as an Occupational Therapist. She has worked on developing children's fine and gross motor skills, handwriting skills, attention, balance, coordination and emotional regulation.
Olivia's friendly and energetic nature allows her to engage children in therapy and build rapport with them quickly. Olivia aims to tailor therapy to meet the needs of each individual child and make every session fun.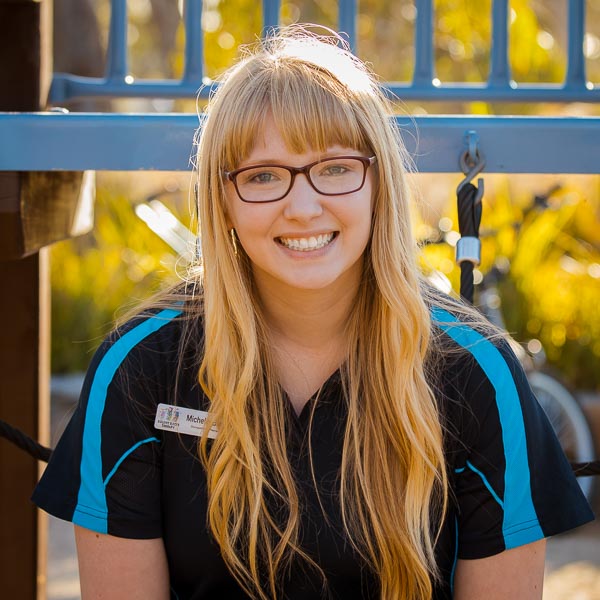 Michelle
Occupational Therapist
---
Michelle sees the potential in all the children she works with and seeks to equip them with the skills and strategies they need to meaningfully engage in their everyday life.
For 5 years Michelle has worked alongside children on the autism spectrum as an ABA therapist in home and kinder/school settings whilst also co-leading an adolescent mentor program. She believes it is a privilege to work alongside families and their children in a fun, engaging and therapeutic way.

---
Michelle has completed a double degree at La Trobe University in Rehabilitational Counselling (Bachelor) and Occupational Therapy Practice (Masters).
When Michelle is not at work she enjoys playing mixed netball, baking, crafting and kayaking.
Brooke
Occupational Therapist
---
Brooke loves working with children and is incredibly passionate about
empowering and supporting them to overcome any barriers that they may be experiencing.

---
Brooke is creative, energetic and playful in nature, and is driven to facilitate the development of skills that will enable children to succeed and reach their full potential.

---
Brooke graduated from La Trobe University with a Bachelors degree in Psychology and a Masters Degree in Occupational Therapy. She has nearly three years experience working in early behavioural intervention (ABA therapy) with a number of children and their families. She has also volunteered in numerous groups for younger children with an Autism Spectrum Disorder.

---
Brooke is incredibly excited to be a part of the wonderful team at Building Blocks Therapy and is looking forward to working with some inspiring young people and their families!
Hilary
Occupational Therapist
---
Hilary studied Occupational Therapy at La Trobe University and graduated in 2008. Since that time, she has worked in a number of settings including mental health, general medical inpatient wards, occupational rehabilitation and also working on programs to support individuals, families and communities to psychosocially prepare for and recover from emergencies.

---
Hilary has worked with children and young people in a range of ways. She has spent time working as a youth worker running youth groups. She also volunteered in the Philippines at a camp for children who were blind. During her Occupational Therapy studies, she undertook a major project to develop an evidence based plan and proposal for a community sensory garden for children with Autism. Hilary loves working with children and their families to develop meaningful goals, and supporting children to reach their potential.
---
In her spare time, Hilary loves to spend time with her husband and children. She enjoys cooking and running. She recently took her kids on their first camping trip – it was so much fun there will be many more to come!
Claire
Occupational Therapist
---
Claire is a passionate and enthusiastic paediatric occupational therapist, who strives for collaborative, holistic and evidence-based practice. She has graduated with a Bachelor of Occupational Therapy from the Australian Catholic University in Melbourne in 2016.

---
Since then, she has gained extensive ongoing experience and knowledge in enabling people to do the daily activities they want and need to do. This has included working at a special developmental school as a paediatric occupational therapist and running camps and facilitating other forms of respite for children with special needs.
---
Claire has also combined her love for travel and occupational therapy by doing occupational therapy internships in Tanzania and South Africa. These experiences have inspired her to empower children, their families and educational supporters to achieve their dreams no matter how big or small. She looks forward to supporting you and your child in
reaching
their potential.
Sharni
Occupational Therapist
---
Sharni graduated with a Bachelor of Health Sciences and Master of Occupational Therapy practice from Latrobe university in 2017.

---
Sharni has always known she wanted to work with children. For a number of years Sharni has worked as a support worker for children with Autism Spectrum Disorder. Working as a support worker allowed Sharni to assist children to participate in activities that are meaningful to them. She loved watching the joy an activity would bring a child who faces many challenges in their life.

---
Sharni is passionate about empowering young children and their families to develop their skills to reach their goals. Her fun, creative and energetic personality assists her in building positive relationships with the children that she works with and keeps them engaged in therapy. She is very excited to work with you and your child to help them reach their full potential!

Alice
Occupational Therapist
---
Alice graduated with a Bachelor of Health Sciences with Honours and Masters of Occupational Therapy Practice from La Trobe University, Melbourne.
Following graduation, Alice worked as a therapy assistant within home and childcare environments, and supported young children during therapeutic horseback riding. Alice found her passion for working with kids, and has previous early childhood intervention experience.
Alice believes that therapy should be fun and recommendations should be practical for carers. Alice's special interests include sensory processing, and self-care activities, such as hair cutting, nail cutting.
Jacquie
Practice Coordinator
---
Jacquie is responsible for the administration for the clinic. From making the payment process for families easy to ensuring families can access the best tools and resources via our website. These things matter to her because she knows they matter to our families.

---
Jacquie is excited about the vision and purpose of Building Blocks Therapy and looks forward to seeing each and every child reach their full potential.
Leesa Maree
Administrative Support
---
Leesa Maree is responsible for general administration, marketing, design, product research and development. She is creative and enjoys finding and designing family friendly resources that are both cost effective and fun. Leesa Maree is excited to share lots of ideas, tutorials and activities that will help children flourish and develop to their full potential.

---
She has three children of her own and enjoys spending time with them and creating fun and inspiring ways to help them learn and grow. In her spare time she is an adrenaline junkie and enjoys hiking, riding her bike and camping with family.
Leanne
Accounts Assistant
---
Leanne is our numbers guru. She is a qualified accountant (CPA) with over 15 years experience in both corporate and education environments. In addition to her accounting qualifications she also holds a certificate 3 in education support and has spent time supporting young children in the classroom environment.

---
Leanne loves to spend time with her husband and 2 young children. In her spare time she enjoys cooking and baking.